Spooky Scary Skellies
How To Play
Move Around with WASD
Launch Bones with the Mouse
Summon Skeletons with 1,2, and 3 keys
Gameplay is simple; kill all enemies in the level, pick an upgrade from the chest, continue to the next level, and repeat!
Story
Halloween is upon you once again! As a Necromancer, you'd think you would be feared, but instead you are belittled for only being able to raise skeletons. It's time you prove to the world that Skeletons are the definitive Halloween monster!
About the game
Spooky Scary Skeletons is a fairly short and casual game. Just have fun watching those little guys go! Upgrade choices are randomly selected, but there are a few powerful ones that require one or more pre-requisites to unlock. Try out a bunch of builds and let me know which one is your favorite!
Some Notes
If you're unable to start the game, be sure to try using Google Chrome or Microsoft Edge as your browser, as these are tested and confirmed to work. Firefox and Brave are confirmed to not work.
Credits
This game was made entirely by myself, TheRetroPaul (theretropaul@gmail.com). But I could not have done it without starting with the amazing and generous work of some talented creators, many of whom are right here on itch:
Artwork
Music
| | |
| --- | --- |
| Status | Released |
| Platforms | HTML5 |
| Rating | |
| Author | TheRetroPaul |
| Genre | Action |
| Made with | LÖVE, Aseprite, ChipTone |
| Tags | 2D, Casual, chiptune, Hack and Slash, Halloween, Horror, Pixel Art, Retro, Short, Singleplayer |
| Average session | A few minutes |
| Inputs | Keyboard, Mouse |
Comments
Log in with itch.io to leave a comment.
This is really good. Excellent job. Thanks for sharing.
cute game, really wanted to love it but the mapsize(too big), the low base movementspeed (just remove those upgrades and set them a little higher to have a satisfying movementspeed) and the challenge wasn't there. The bosses kind of just..melted without me doing anything :< Would also have loved more upgrades c: but it was very cute
I got "Exception Thrown" error.

Would you mind opening up your browser's console and letting me know what sort of message it's giving? I'd really appreciate the help. Otherwise, be sure you're using either Google Chrome or Firefox. Safari and Edge may also work, but other browsers have been known to just not work.
Here you go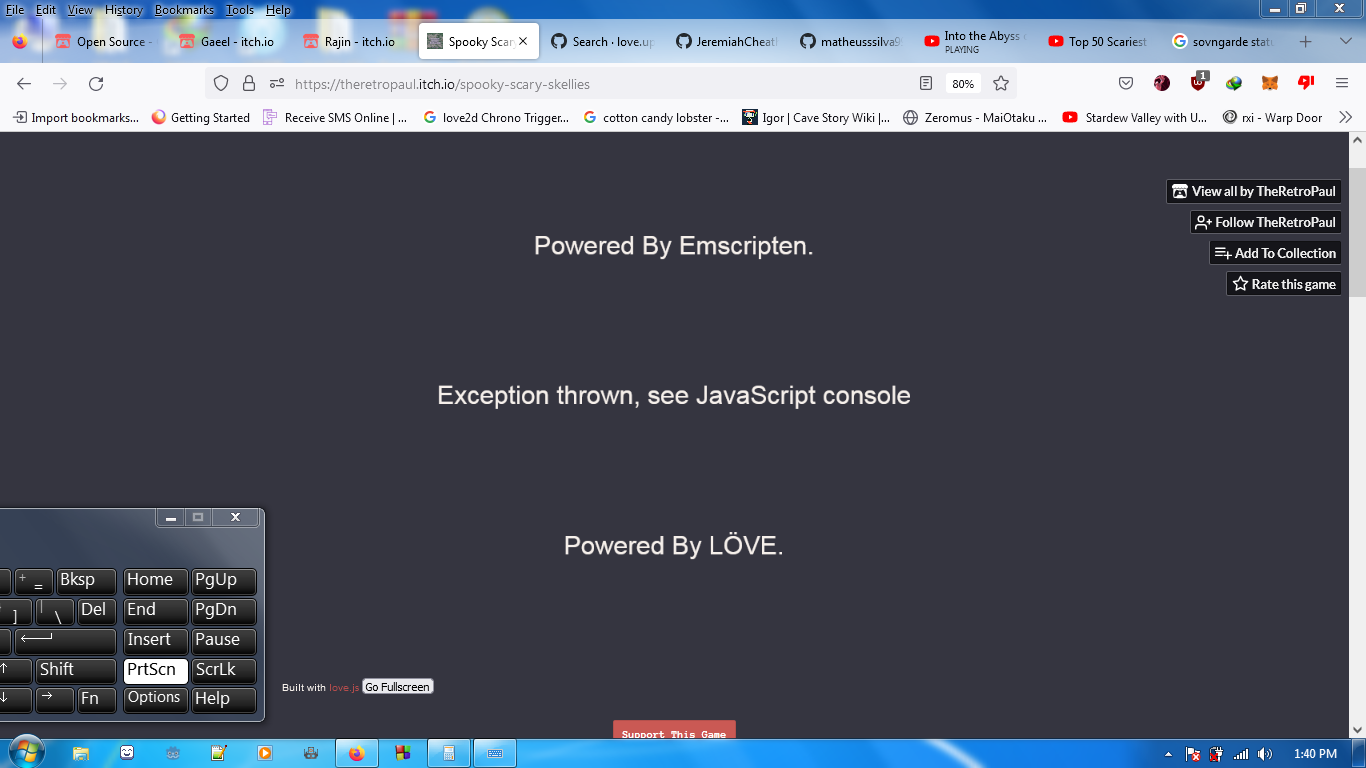 Thank you. I've tried myself and unfortunately it seems like it just doesn't work on Firefox. It does work on Google Chrome as well as Microsoft Edge, though I wasn't able to test Safari as I'm on PC. So either try Chrome or Edge and it should work.
If anyone else is able to try Safari or any other browser, I'd appreciate if you'd let me know if the game can run.
Entered the third room in the brown level the screen started shaking super hard and then game just crashed. Loved the game otherwise!
Thanks for playing and I'm glad you enjoyed! I believe I've fixed the issue so give it another shot!